Data Entry Job
Captcha Solving Is One Of The Easiest And Most Reliable Ways To Earn Money Online. All You Need Is Your Computer And A Keyboard. There Are So Many CAPTCHAs That Cannot Be Recognized Automatically And Just As Many Webmasters Ready To Pay For Solving Them. We Offer You This Service Which Collects Such Images In A Single Place And Has Neat Interface For Entering The Text From Them. Now You Can Simply Look At Text From The Picture (CAPTCHA) And Enter It.
Register And Then Hit The "Start Work" Button, And The System Starts To Offer You Captcha To Solve, One By One.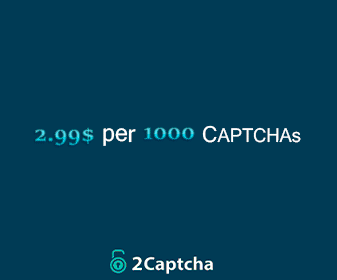 How To Register At 2captcha
It's Free
To Join
And To Get Started Here's What You Will Have To Do.
Sign Up & Confirm Your Account
Solve 38 Captchas For Free To Get Used To The Training Process
Start Solving Captchas For Money
How To Earn Money From 2captcha
2Captcha's Main Purpose Is Solving Your CAPTCHAs In A Quick An Accurate Way By Human Employees But The Service Is Not Limited To CAPTCHA Solving. You Can Convert Into Text Any Sort Of Image That A Human Can Recognize And Type.
In Order To Start Using The Service You Need To Do The Following Steps:
Become Our Customer By Transferring Your First Amount To Your Account (This Sum Will Be Totally Spend On Your CAPTCHAs).
Take Your API On Your Preferences Page
How To Withdraw Your Money From 2Captcha
Many People Are Wondering How To Request A Payment In 2Captcha.
It's Simple You Just Have To Click On Request A Payout From Your Dashboard.
You Will See Different Payment Methods Which Are The Following:
WebMoney
Perfect Money
Bitcoins
Payeer
AirTM
uphold

AdvCash
The Minimum Payout Is $1.3 If You Request Your Money Via Payza Or AdvCash A Fee Of 1-2% Will Be Taken From Your Earnings.
The Payments Are Pretty Fast However When It Comes To Payment Methods I Always Want To See Paypal Included.
Things To Remember:
Never Refer Yourself To Earn 10% Referral Commission. Your Account Will Be Disabled For Not Following Terms In Case If They Find More Than One Account Running Under A Referral Link From Same IP.
Try To Solve Captchas With Good Accuracy To Prevent Suspension. 95% Accuracy Is Required To Work On 2captcha.
Do Not Type Random Alphabets And Numbers. Temporary Suspension Will Be Changed To Permanent Ban If Moderators Finds The Captchas Solved Wrong Intentionally.
Try To Work On High Bid Hours To Earn More. In These Time Period You Can Earn Double The Money By Solving Less Captchas.